AMD Delivers Crimson ReLive Drivers: Yearly Feature Update for Radeon Gamers and Professionals – AnandTech
---
December 9, 2016
Uncategorized
---
This time last year we saw the launch of Radeon Crimson. This was AMD's big attempt to state that a yearly cadence for software features was a good thing, and helped streamline the process for the number of initiatives that AMD participates in when it comes to GPUs. This year the update is called 'Crimson ReLive', and features a number of updates such as integrating the professional aspect of Radeon Pro into the cadence, a push towards VR features, and additional elements to gamers/streamers and even screen recording for professional software.
Then vs. Now
As was made clear during various presentations during 2016, AMD's driver and software teams have been shaken up and put on a quest to improve the user experience. This has been explicitly stated as more quality assurance, no fixed update schedule (fixes are published when they are ready) and a new push to ensure game-ready drivers are good-to-go when the game is launched. As a result we were promised more beta driver releases and a half-dozen WHQL releases during the year to ensure that steady stream. (The WHQL process takes time and doesn't take into account game-specific issues, but offers a certified set of collected updates which can be required in certain environments.)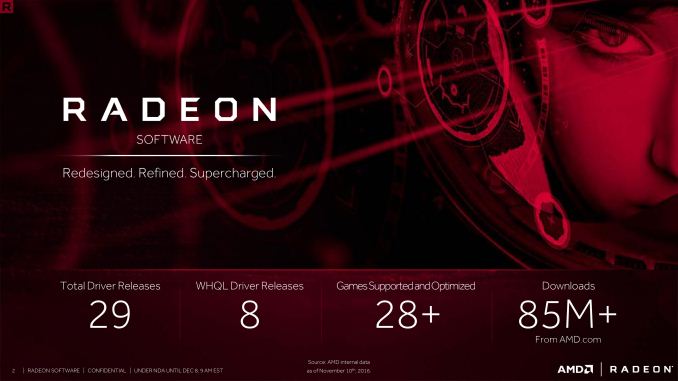 Users were promised six WHQL updates in 2016, and so far there have been eight. There have been a total of 29 driver releases (which makes 21 betas / hotfixes) with 28 new games supported and optimized, most of which were supported on day one. AMD has stated that this resulted in a user satisfaction rating (as rated through their metrics) of 9/10, and have been key to promote that the newer Crimson style of doing things is a stark contrast to the perception of AMD driver tools and software of generations past.
Back at the launch of Radeon Crimson in 2015, we saw the launch of a streamlined interface taking over from Catalyst Control Center, the introduction of Frame Pacing, Liquid VR integration (which was expected given the launch of VIVE/Oculus in 2016), shader caching, custom resolution support, FreeSync improvements, FrameRate Target Control  (FRTC), Game Profiles, improved Eyefinity support and a new driver branch for performance. Ryan and Daniel wrote about this last year, and it's still worth a read for users that do not recognize any of the terms in that list (some of which will be used in this piece).
For the 2016 update, Crimson ReLive, AMD has focused the updates into three key areas: Consumer, Developer and Professional. These are not hard-and-fast divisions, given that features for one market may also be used for another. However package-level updates typically fall into two areas: bug fixes and new tools.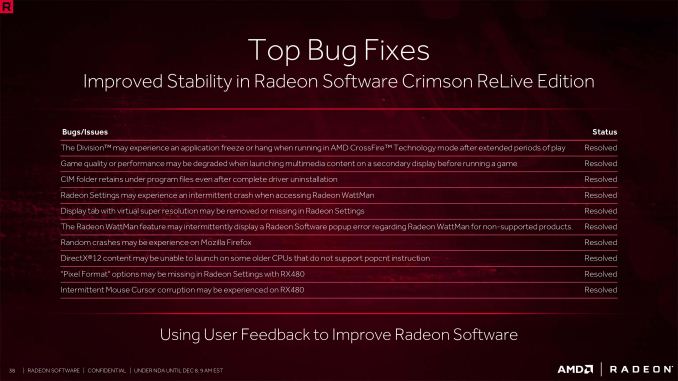 AMD is keen to promote that for 2016, due to the immediate driver release methodology, the driver program can be on top of more bug-fixes and they're released as required. Part of this comes through the additional level of automated quality assurance but also an increased level of real-world/end-user test procedures as well as rigorous VR testing. AMD is aiming that the increased testing and focus on launch-day drivers that are right first time will give optimum performance. If there are updates to come, this way of testing also allows performance updates to be rolled out quicker, which AMD has tested compared to the RX 480 launch drivers. It was stated that the days of 40%+ performance increases due to drivers is set to disappear in part due to this refocused effort to get it right on day one.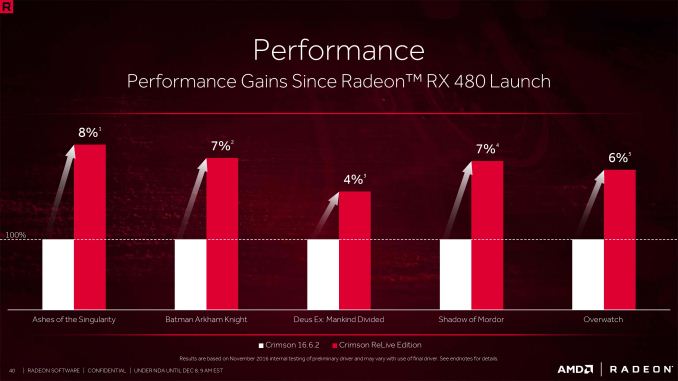 Crimson ReLive on Linux
Before we get into the meat of the launch, a side note about Linux. The new launch will extend driver support to all AMD discrete graphics cards that are based on GCN architecture (so from AMD HD 7000-series and newer) but also gives Linux official FreeSync 1.0 support.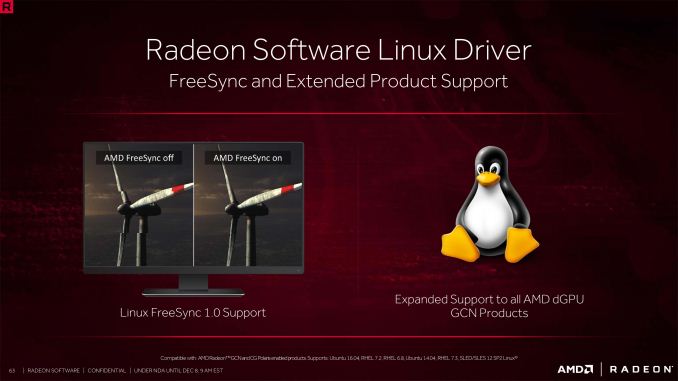 Supported operating systems for this are Ubuntu 14.04 / 16.04, RHEL 6.8 / 7.2 / 7.3, and SLED/SLES 12 SP2.
We've covered AMD's progress into open source software development, with most efforts coming through GPUOpen. AMD is keen to point out that over 2016 GPUOpen now provides 70+ SDKs/Samples/Libraries/Tools that are used in common software packages such as VLC, Firefox, Ubuntu, WordPress, Blender and so on. As part of today's announcement, a few more tools are coming to the box.
Radeon Loom
Radeon Loom was demonstrated earlier this year, and the beta preview is now available through GPUOpen. Loom is AMD's answer to the current problem of 3D camera content: how to stitch together a sufficient number of flat images to remain seemless in a 360º environment or playback.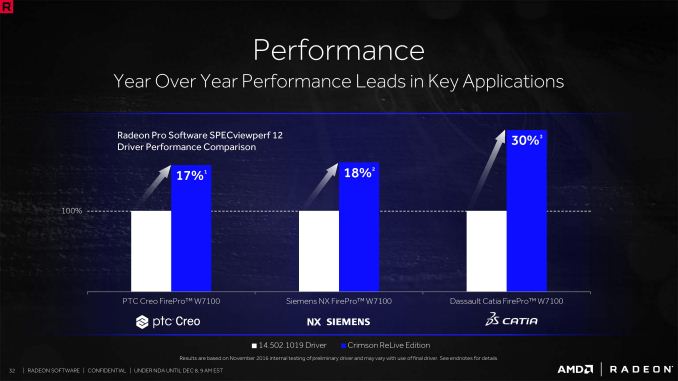 With the new preview, using AMD's open source implementation of OpenVX, developers should be able to use the toolset to create a combined 4K 360º video using 24 images in real time. This becomes important when live video is streamed into a 360º experience, such as sitting on the touchline of a sports game or getting ring-side seats. For non-live content that is pre-processed to consumption, Radeon Loom will support 31 image input for an 8K equivalent display.
OCAT (Open Capture and Analysis Tool)
In the world of benchmarking, two main issues have probed up in recent years. Firstly was the issue regarding multi-GPU frame pacing and runt frames, which exposed not only hardware failure but the failure for software to accurately record what is shown compared to what is computed. To detect runt frames, the FCAT tool was developed involving on-screen overlay, capture, and frame-by-frame processing. This requires a second PC with fast storage, capture cards, and compute resources.
If runt frames aren't an issue, such as in single GPU environments or with configured multi-GPU profiles, then the most commonly used software for live benchmarking is FRAPS. But due to the way FRAPS takes data, it cannot be used for DX12 or Vulkan due to the different way in which the frame pipeline is managed. AMD's is promiting a new OCAT tool that is designed to be an all-encompassing frame rate benchmarking tool for modern APIs that is purely software based.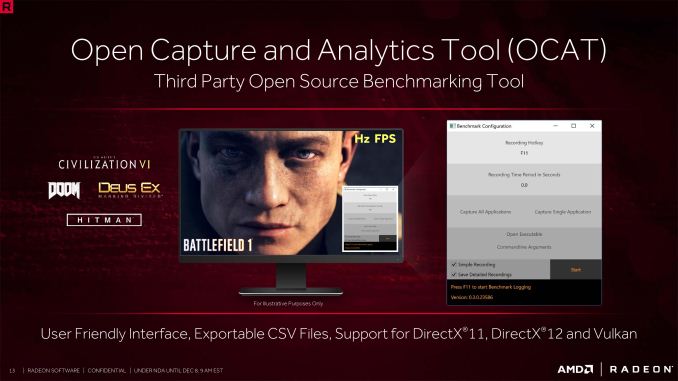 OCAT will support DX11, DX12 and Vulkan with a simple interface and log outputs. Rather than FRAPS that captures any screen that requires a 3D engine, OCAT will operate on software run through itself in order to put in the appropriate hooks required.
OCAT is third-party but also more importantly is open source. Thus despite AMD promoting it, analysis of the code can be performed to make sure there are no hidden tricks to frame calculations. We will be experimenting with the tool for our benchmarking over the course of the next few months.
Increased Game Developer Integration in DX12
One of the key talking points for 2016 has been the move towards DirectX 12, and here at AnandTech we've closely followed the sorts of improvements possible from creating content using the latest API as well as extensive testing as the technology was being enabled. As one of the lead partners in the DirectX 12 specifications, we would expect AMD to be promoting its use, and with today's announcement AMD has stated that they are working with 50+ titles expected to come to market that will use DX12 features, up from the ~15 currently available.
Depth of Field, TressFX 4.0, H.265
As game engines are becoming the go-to tool for certain types of non-game content generation such as storytelling (or even story telling in games), then increased fidelity and realism, along with cinematic effects, are being integrated into these tools. For today's announcement, AMD has added new tools to GPUOpen for Depth of Field (DoF) and updates to TressFX and H.265.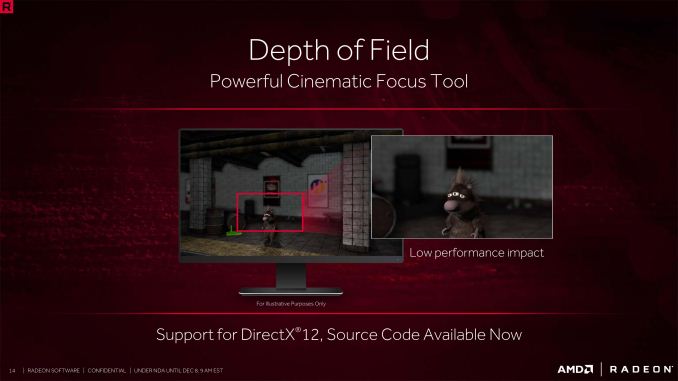 The DoF update is simple – it applies a relevant set of filters to the parts of the scene that are not meant to be in focus, basically a bokeh for game engines. AMD states this has a low-performance impact.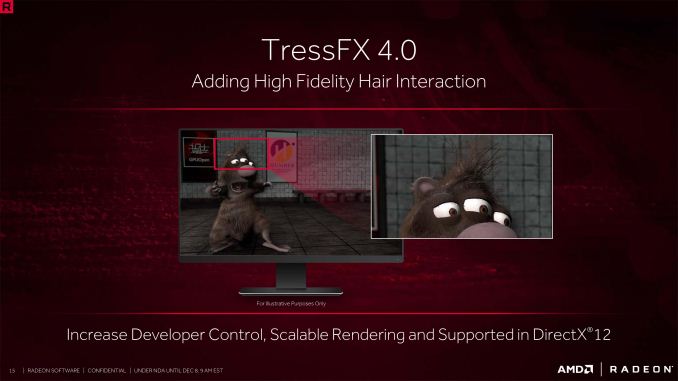 TressFX 4.0 expands the hair modeling tools initially released with AMD and used heavily in Tomb Raider. Version 4.0 gives increased developer control, and scalable rendering to ensure peak performance with hardware at hand. Version 4.0 is also DX12 supported.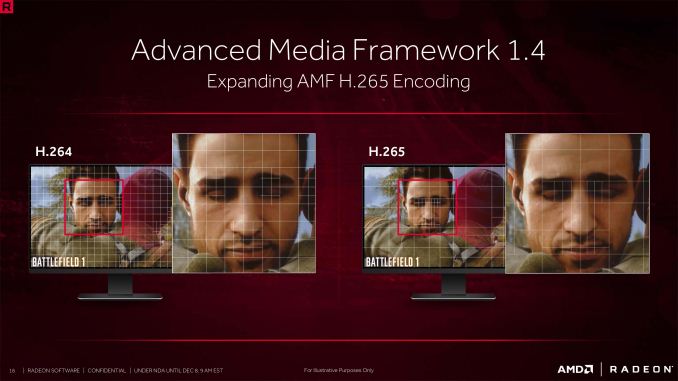 H.265 encoding has been a part of GPUOpen, but with the new launch the tools are being expanded for in-game DX12 frame processing. AMD was light on the details, except to say that more of the H.265 feature set is now available.
AMD combines all of its VR related assets and tools into its LiquidVR branding, and with the Crimson launch last year it integrated the LiquidVR assets into the consumer driver set in preparation for the onslaught of 2016 VR headsets and content that entered the market. With Crimson ReLive, three new assets are being added into the platform.
LiquidVR: Affinity Multi-GPU
When AMD launched the RX480 it was advertised as a VR Ready card, and when combined with another RX 480 and DirectX12, offered great performance. DirectX 12 offers many different modes for multi-GPU, with alternate frame rendering or separate asset rendering depending on the mode used. Affinity Multi-GPU takes that AFR concept but splits it per-eye for virtual reality. This allows each card to work independently on each eye, resulting in up to 20x lower frame re-projection as reported.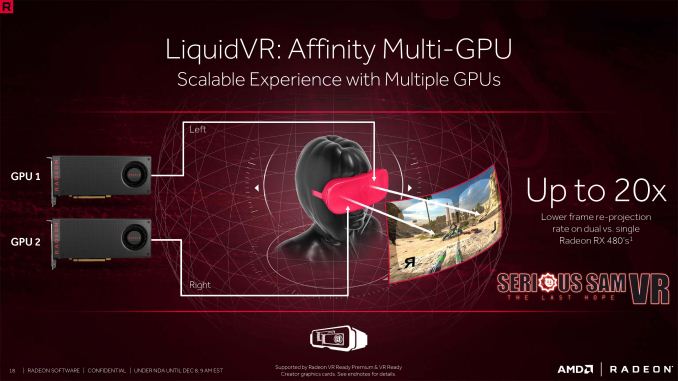 The main benefit here is that each card should be working near its peak load, and can compensate if one GPU has a longer-than expected frame, although it means maintaining timing and can make sharing assets an issue. Nonetheless, AMD has stated that during complex scenes it will certainly help the immersion factor.
LiquidVR: MultiView and MultiRes Rendering
For virtual reality, multi-projection is not a new concept but is important in the sense that different cameras will render different objects either at a closer range, or not at all if they are hidden. MutliView on AMD's side of the fence is a tool to aid in multi-camera rendering by optimizing shared assets and reducing the processing overhead.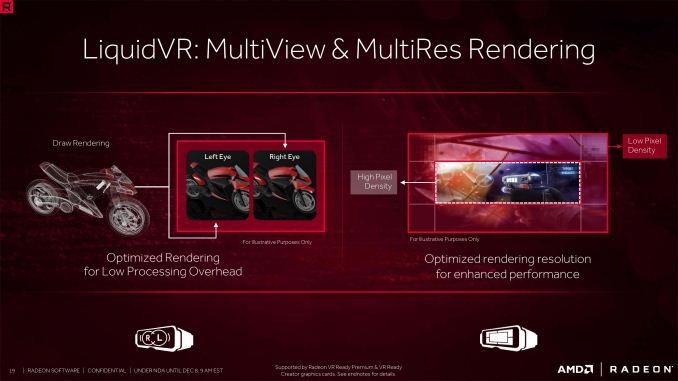 MultiRes Rendering is a solution to the fact that humans can only focus on a small fraction of what they see in front of them, and as a result we don't really need everything in view at the best detail. The MultiRes tool will make the GPUs spend more time improving the quality of the assets in focus and less time at areas that will be of low focal importance. AMD slightly confuses the matter by saying 'pixel density' but in this case it means more along the lines of higher resolution rendering for the part in focus being downsampled for a given area for a better quality visual where it matters.
It should be clear by now that one of the main things about virtual reality is 'with limited compute, how can you make what the user sees better?' and the solution to that is to cut what you can't see and de-emphasize content that is less important. MultiView and MultiRes are along these lines (as well as technologies from other vendors). Ultimately MultiRes can be particularly important when combined with Depth of Field filters mentioned above – if it's going to be blurred through DoF anyway, there's less reason to spend time improving the rendering quality of the content before it is blurred.
LiquidVR: TrueAudio Next
While TrueAudio was announced and released several years ago, and despite only a small handful of games using it, moving to VR makes it more important to calculate where audio comes from and how it propagates through a particular scene. Crimson ReLive now adds the TrueAudio Next package into the consumer and professional drivers for supported cards in order for titles and content that use the TrueAudio tools to take advantage of dynamically propagated audio. Audio is one of those tricky elements where it requires individual filters based on location/reflection/reflection on different surfaces for each audio sample and often completely different filters on different samples simultaneously (a scream through glass combined with heavy boots on a metal grating from around the corner). In a VR environment these calculations can add up as samples and complexity increase without the proper tools to manage.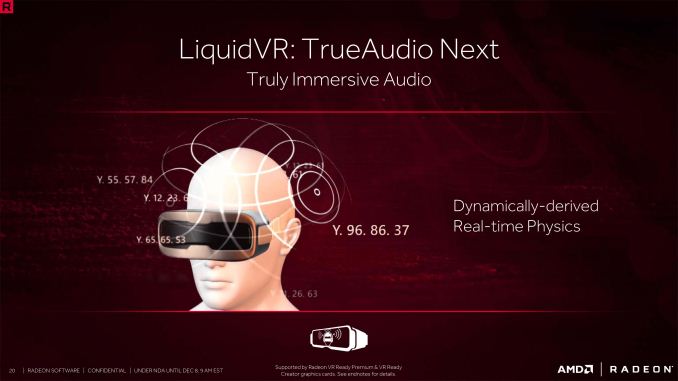 The rebrand of the FirePro line of professional GPUs to Radeon Pro has been, as probably expected by the professional environment, a slow and steady trek. Over the past couple of years, a number of initiatives from AMD to integrate professional style workflows into something that can be optimized under AMD have been in place. As a result AMD is making the launch of this next generation package a marked uptick for an increased level of platform testing, ISV certification, and more stress testing under professional level requirements.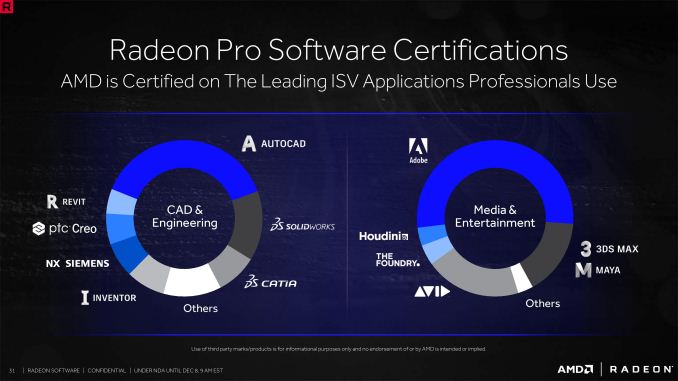 This extends to performance as well, particularly on popular software on both older FirePro and the new Radeon Pro cards.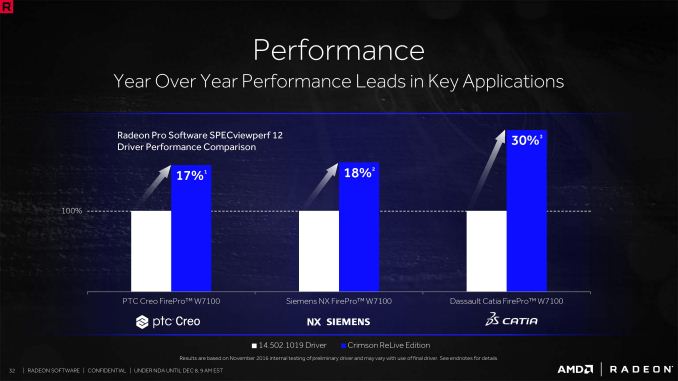 With the ReLive update, AMD is committing to Enterprise users (data centers, HPC, large clients) that there will be a regular cadence of driver updates throughout 2017, with the 4th Thursday of each quarter (so 1/26, 4/27, 7/27 and 10/26) marked for official releases.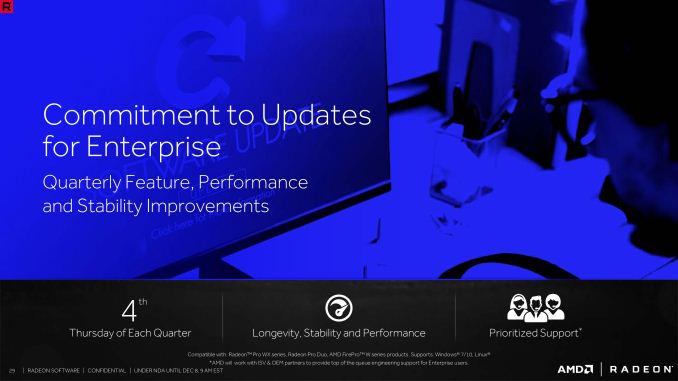 The Radeon Pro drivers and the regular drivers, despite still being separate packages, are set to integrate more common features between them during 2017. This includes game engine support, allowing professional workflows to take advantage of DX12 for CAD visualization or modeling in Unity with professional cards. LiquidVR will also come to the Pro driver set for specific cards (WX7100, Pro Duo, W9100), enabling VR workflows for a number of ISV packages as shown below.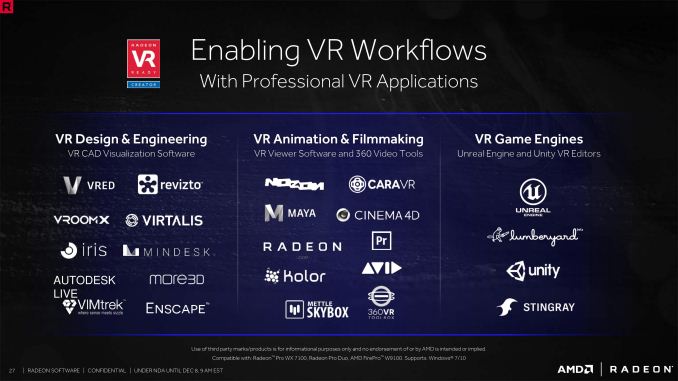 The Radeon Pro driver for Linux is also being improved with AMD offering an both open source driver core as well as a proprietary driver set. The latter was explained as specifically pointing to larger install/professional bases that might have additional IP requirements to which an open-source implementation might not be sufficient. Nonetheless, this means FreeSync 1.0 on Linux, improved performance for Pro WX and FirePro W cards under Ubuntu, RedHat and CentOS.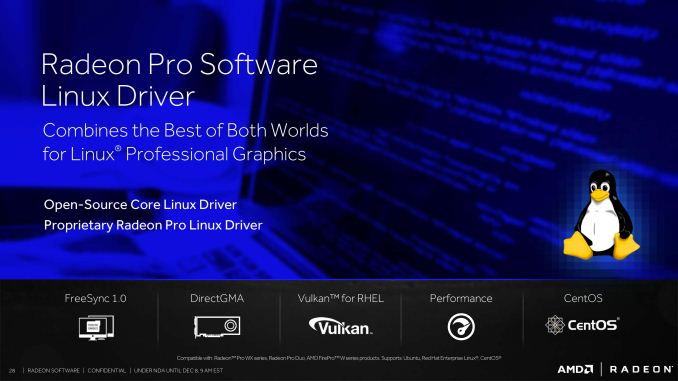 The launch of ReLive for Radeon Pro will also include support for vmware vSphere 6.5, allowing direct GPU virtualization for FirePro S7100X/S7150/S7150 X2 cards and deterministic performance across multiple VMs. AMD is keen to stress that there are no licensing fees for this and these drivers in virtualized environments also come with a number of high-priority ISV certifications that a number of customers demand.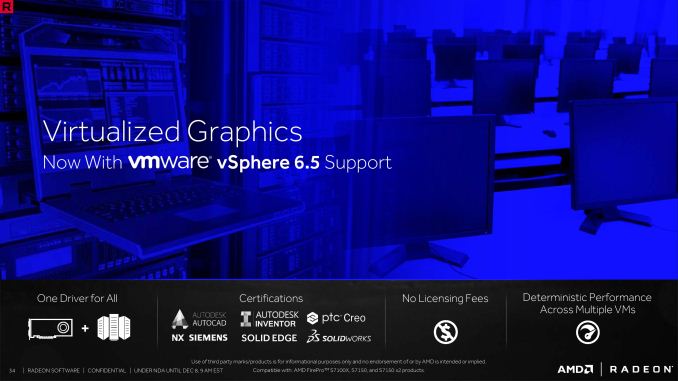 For the users of the regular driver package used for gaming and general purpose home use, while the developer tools might not be much of interest there is certainly a lot going on with the interface worth mentioning. This all comes under the header of new features, and we'll spend a few pages going over what will be new with Crimson ReLive.
Clean Installs
For anyone updating drivers, or moving between graphics card generations particularly on older systems, the only way to ensure 100% compatibility has been to have a fresh operating system devoid of any other programs. Ultimately the real-world is different, and for people using 3-5 year old systems who want to put in a new graphics card it can be a bit of an ordeal with driver conflicts or older files getting in the way. Over the last two years, the green team has had a 'clean install' option that promises to remove any trace of older software/software components and give a fresh install based on the installer package. Now this functionality comes to the red team as well.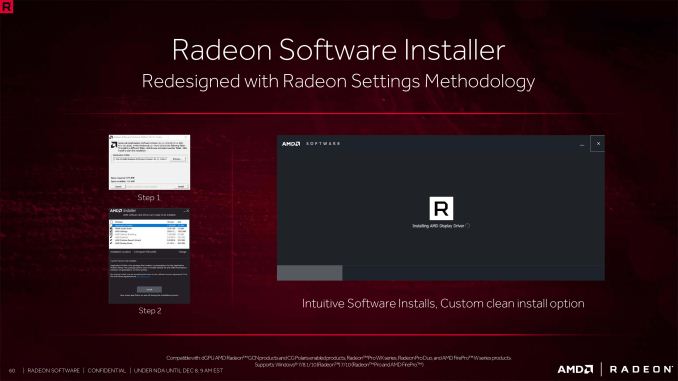 Personally I've had driver conflicts come up mostly on older, much-used systems, or when changing a test-bed between multi-GPU configurations. Sometimes a reinstall of the same drivers over the top doesn't do anything, leading to the loss of hair and four-letter expletives. Thankfully, this is designed to alleviate such a frustration. Clean Install is also offered with Radeon Pro and Radeon FirePro drivers.
User Feedback and Feature Requests
One of the problems with user feedback on PC related software is that it can be difficult to obtain. Typically users are self-selecting: they have issues and rate software badly, or have something to gain from a positive reply. There are focus groups that aim to be balanced, but they don't always hit at detailed positive or negative aspects. There is no right way to do it (even the mobile stores have games that offer rewards for positive feedback), but AMD is attempting to do something to at least get 'live' data from Crimson ReLive.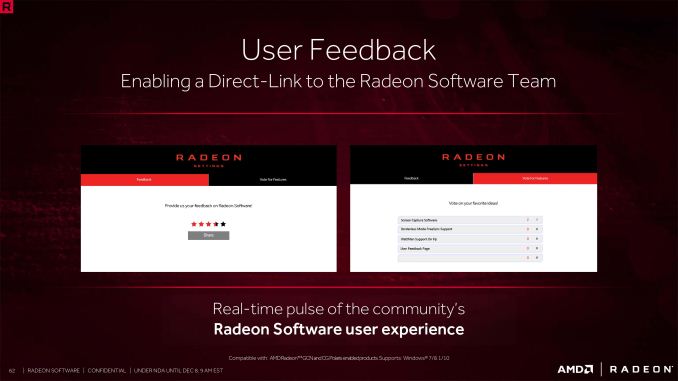 ReLive will have a tab where users can offer their feedback, up to five stars (I'm unsure if the lower limit is 0 or 1 at this point), and I believe there will be an opportunity for users to give more detailed feedback in due course.
The other side of the coin is for feature requests. Most software manufacturers rely on forums and interpretation for user requests, or ideas come internally. AMD now has a tab where users can submit and vote on their favored features for upcoming software. This could be a game fix, back-porting software support for an older range of GPUs, increasing Freesync support or whatever submissions are taken. At some level I would assume AMD will keep an online list of submissions, and ones that are impossible (Freesync over VGA is something that can never happen) but end up rated high can be explained as to why it won't happen. It will be an interesting development to see what comes through.
Upgrade Advisor
The fact that almost all games provide a 'minimum' and 'recommended' specification list allows a user to ensure a system is set up to provide a suitable experience. Through Crimson ReLive AMD will detect the current system and compare it to the requirements for detected games allowing the user to see if they meet the requirements or if the user needs to upgrade.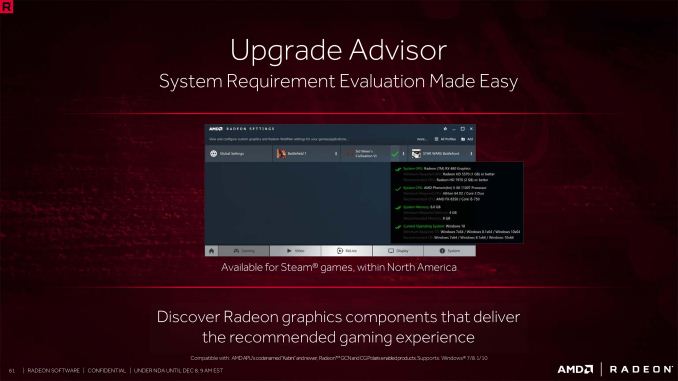 The system will give a tick when above the minimum requirements and a double tick when hitting the recommended. There is a caveat in all of this such that the recommendations will only occur on Steam Games for now, and for users in North America (I assume it detects this via the IP address).
At present the system does not offer recommendations as to what to buy (or where), or where to read reviews on potential upgrades. I highly recommend a site I know called AnandTech. I'm sure you've heard of it?
Display Diagnostics
One of the most frustrating things to diagnose with a display that will not turn on is the cable. I've been there, in an overclocking content, having changed CPU/GPU/Motherboard/Monitor/DRAM over the course of two hours only to find that the cable between my machine and the monitor had died. There's no indication that the cable was ever failing, and no light to say it was/wasn't working.
I'm not the only one to have had this issue, apparently. AMD told a story of how their CEO of the Radeon Technology Group (RTG), Raja Koduri, had a similar issue trying to connect an HTPC to his TV. After many emails around the company, troubleshooting fresh OS installs and BIOS updates, the culprit was the HDMI cable, and despite the fact it had been used before was fine, but it had gone the way of the dodo.
With this in mind, AMD has created a set of display diagnostics in Crimson ReLive for HDMI. On all AMD APUs from Kabini and all GCN discrete GPUs, the software can detect a bad HDMI cable and realign the signal for both resolution and frequency to get to a point where the signal is stable.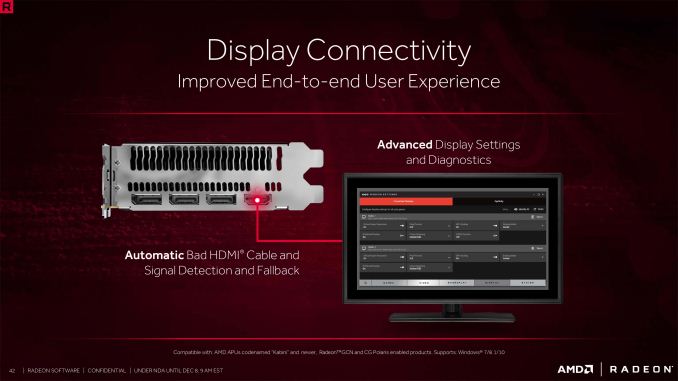 This can help in most situations (short of a severed cable) by widening the window for bad data to be accepted at a loss of frame rate or resolution. At present this feature is only for HDMI ports on relevant cards, but when a bad cable is detected and a display has to change to work, the software notifies the user that a new cable is needed.
VP9 Decode and HDR10/HBR3 Support
One of the issues with last year's launch of Crimson is that most of the video display settings seemed to not work with streamed video, particularly VP9 video coming from YouTube. This is in part due to VP9 decode not being supported on AMD products, but with the ReLive driver this changes. ReLive will allow for 4K60 decode of a VP9 stream for all GCN enabled discrete graphics cards and Stoney Ridge APUs. This is ultimately a software solution using the GPU, so it isn't as power efficient as a dedicated hardware solution, but does offer a lot more performance than a CPU.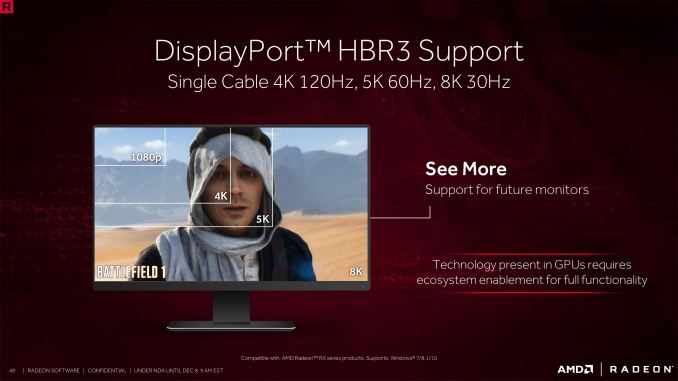 On the HDR front, AMD has been promoting that high end R9-300 series and RX-400 series graphics cards can support HDR10, however this has not been enabled in the drivers until Crimson ReLive. All the demos seen at AMD shows up to this point on compatible HDR10 displays have been beta driver versions specifically not released to the public, however with ReLive this changes. This also pairs with DisplayPort HBR3 support being enabled with ReLive allowing for 4K120, 5K60 and 8K30 over a single cable (HBR3 is on RX-series only).
FreeSync: Borderless Fullscreen Mode and Refresh Ramping
One of the most requested features for AMD has been bringing FreeSync into other modes than just single-focus full-screen mode. This is particularly important for users that use multiple monitors and end up requiring other content on a second monitor while the first is running, or for other applications to take focus quickly. With ReLive, AMD has put the tools in place to enable Borderless Fullscreen mode for software that can use it. One of the issues moving away from a fullscreen fixed mode is the click-to-response time latency, which AMD claims to have reduced by up to 24%.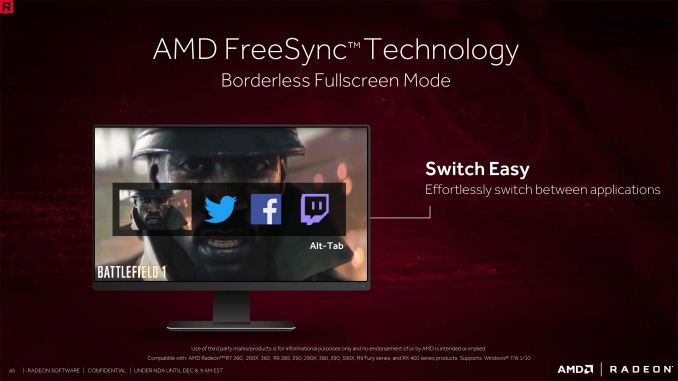 Refresh Ramping will be another feature in ReLive and is designed to stop harsh changes in panel refresh rate depending on the content. When the onscreen display can run at a lower refresh rate, rather than slamming down immediately to that rate, the driver will pull the refresh rate down over a few seconds in order to give a smoother transition, and similarly to a higher refresh rate. AMD states that this saves power, which without data might be correlated to the actual switching of refresh rate rather than the low refresh rate itself.
Earlier this year, during the Polaris set of pre-briefings, AMD mentioned that it had acquired a company called HiAlgo. HiAlgo had designed a set of software and driver hooks to decrease FPS/power or increase response time by dynamically adjusting resolution by monitoring graphic workloads and gameplay mechanics. At the time the software only worked on DirectX 9, but since the purchase AMD is now bringing part of the package to its driver set. First up is CHILL.
Radeon CHILL
The concept of CHILL is fairly simple. During periods of low user interaction or little action on screen, the CPU and GPU power limit is reduced, causing the hardware to slow down. This reduces the frame rate during periods where a high frame rate is not required, allowing the CPU/GPU to cool down (where the CHILL bit comes in). This also saves power on power-limited systems such as laptops. When CHILL detects more action or more strenuous movement by the user, the power limit is moved back up.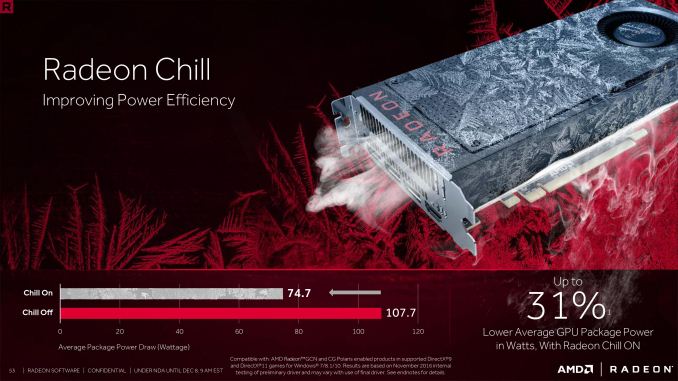 We still need to test the software internally, but the idea means lower temperatures and lower average power consumption. One side-effect of this means that fewer frames are queued in the buffer, which AMD claims it results in a quicker response time from frame generation to frame output.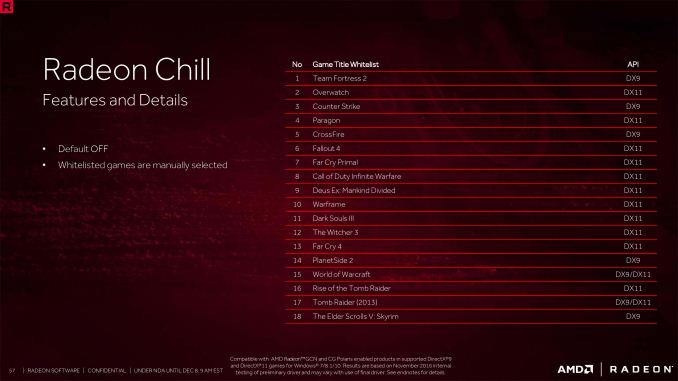 CHILL will be enabled in ReLive for any GCN enabled product, initially for only specific DX9 and DX11 titles. As a first release of CHILL, AMD is being somewhat cautious and shipping with the feature turned off by default and relying on a list of approved games at this time. We were told that as time goes on it may be turned on by default and games known to be incompatible will be denied by the software.
WattMan: Extended to More Cards
One of the big updates for the release of AMD's Polaris GPUs was the WattMan (what, man?) power management software, taking over from previous overclocking tools.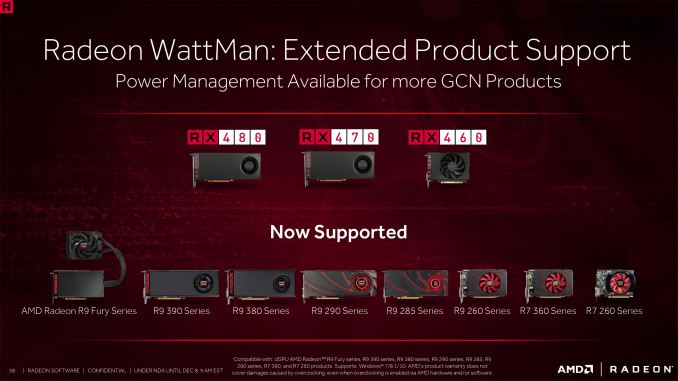 As part of ReLive a number of 200 and 300-series discrete GPUs will now be enabled with WattMan as well as the R9 Fury series.
AMD XConnect Technology
During the gamut of external GPU enclosure announcements around Thunderbolt 3 during the year, AMD's XConnect technology emerged as a leading figure. However, up until now, it mainly requires specific driver sets under specific hardware configurations.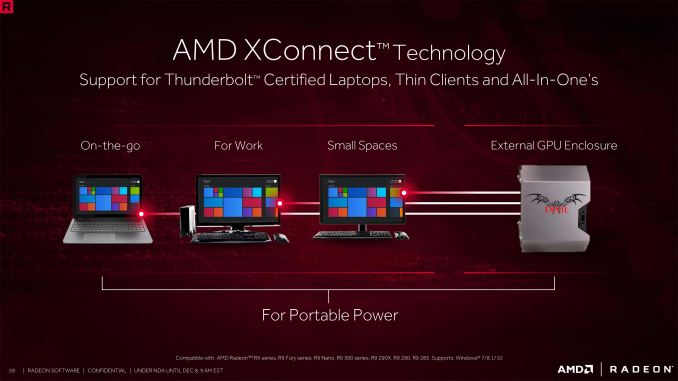 With ReLive this is opened with XConnect now supporting any Thunderbolt certified laptop, thin client and all-in-one when used with an enclosure that supports an AMD Radeon discrete card with GCN 1.2 or above.
The biggest part of the ReLive launch, despite the major amount of updates, fixes and new features, is actually the 'ReLive' itself, or 're-live'. Basically on our hands is an on-screen recording tool that implements integration to streaming services and offers options for professionals to demonstrate or promote with overlay and webcam features all while giving a minimal impact to performance.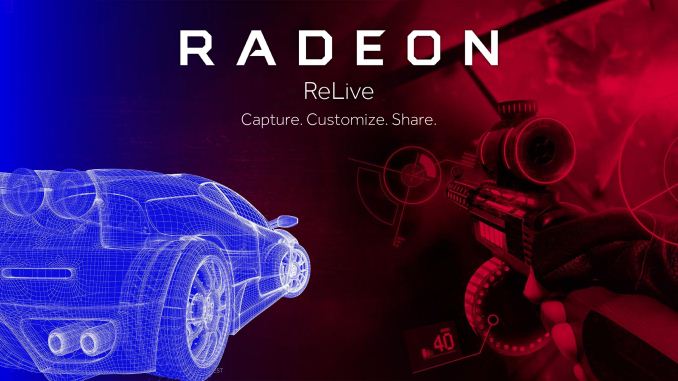 So clearly there are plenty of gaming capture software suites already available on the market such as XSplit, individual webcam software, and even a Game DVR capture tool built directly into the latest editions of Windows 10. One of the key advantages AMD claims it has over all the others is that being a GPU manufacturer means they can interact with the hardware in ways the others cannot, leading to a much lower overhead and better experience than the rest. Also, it comes free with the driver software and doesn't require a license.
Aside from the obvious game streaming aspect most users are familiar with, AMD is promoting ReLive as a professional tool as well, bundled with the requested versions of the Pro software set. The blurb from AMD states that using a tool such as ReLive can help with training and remote presenting, not to mention that AMD is also certifying the tool with commercial software packages as required.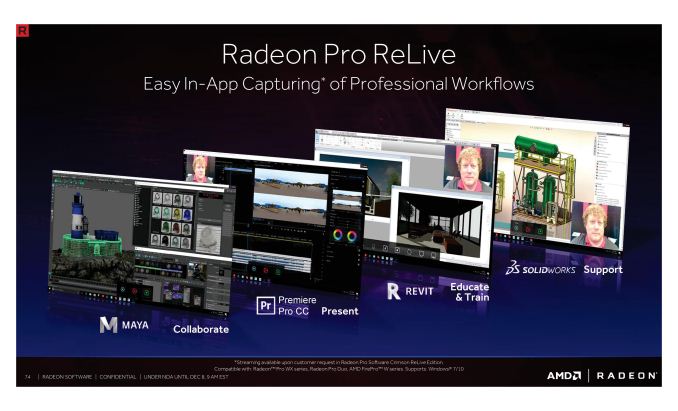 ReLive will support direct streaming into many online video services such as YouTube and Twitch, as well as a gamut of popular Asian streaming websites (panda.tv, Douyu, Huya, Longzhu). Control for ReLive's features will be via an in-app toolbar, offering instant replay of up to 20 minutes of onscreen footage and custom hotkey support for things like overlay images and webcam positioning.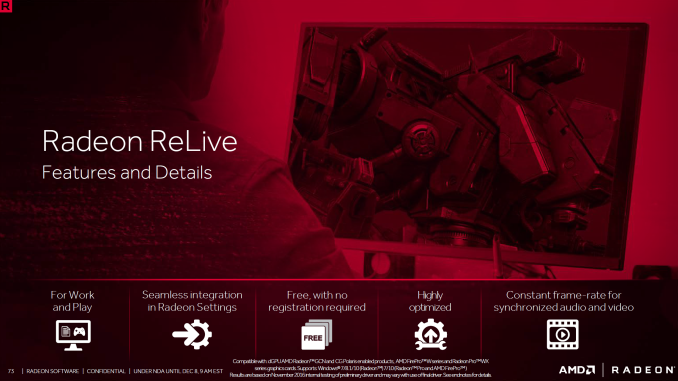 Support for ReLive will be on all GCN enabled discrete graphics cards for Windows 7/8/10, and for Pro WX and FirePro W-series cards on Windows 7/10.
With Crimson ReLive, AMD is stating that this is their biggest software launch ever, and the joint initiative between consumer, developer, professional and feedback mechanisms will help future software development especially as so many areas overlap. The policy for 2017 will be similar to 2016 for driver updates: around a half-dozen WHQL launches plus updates for every major game launch on the day of launch (or for serious bug fixes).
AMD is putting a lot into open source development, enticing developers to work with the tools provided for better user experiences on AMD or other hardware. However users will notice that throughout this piece there have been a number of features limited to particular hardware, mostly due to the feature set of certain types of hardware. Here's a tabular breakdown of what works with what, starting with the Pro software.
AMD Crimson ReLive Feature Support List
Pro Level / Creator Features
 
GPU
OS
LiquidVR
Affinity Multi-GPU
VR Ready Premium
VR Ready Creator
Windows
Linux
MultiView
MultiRes
TrueAudio Next
Radeon ProRender
VR Ready Creator
Windows
macOS
Linux
Radeon Pro Game Engine Integration
Pro WX-Series
FirePro W-Series
Various
Radeon Pro: LiquidVR
Pro WX7100
Pro Duo
FirePro W9100
Windows 7/10
Radeon Pro: Linux Driver
Pro WX-Series
Pro Duo
FirePro W-Series
Ubuntu
RHEL
CentOS
Radeon Pro: vmware vSphere 6.5
FirePro S7100X
FirePro S7150
FirePro S7150 x2
–
Radeon Pro ReLive DVR for ISV
(streaming at customer request)
Pro WX-Series
Pro Duo
FirePro W-Series
Win 7/10
On the consumer level:
AMD Crimson ReLive Feature Support List
Consumer Level Features
 
GPU
OS
Bad HDMI Cable Detection
Kabini APU and newer
GCN Discrete
Windows
VP9 4K60 Decode Acceleration
Stoney APU
GCN Discrete
Windows
HDR10 Support
R9 Fury series
RX 460/470/480
R9 380/390/390X
Windows
FreeSync Borderless FreeSync Mode
FreeSync Refresh Ramp
R9 Fury series
RX 460/470/480
R9 380/390/390X
R9 285/290/290X
R7 360
R7 260/260X
Windows
Skype Acceleration on APU
Bristol APU
Carrizo APU
Stoney Ridge APU
Windows
DisplayPort HBR3 Support
RX series
Windows
Radeon CHILL Software
(Select Games Only)
GCN Discrete*
Windows
DX9/DX11
Radeon WattMan
R9 Fury series
RX 460/470/480
R9 380/390/390X
R9 285/290/290X
R7 360
R7 260/260X
Windows
AMD XConnect
R9 Fury Series
RX 460/470/480
R9 380/390/390X
R9 285/290/290X
Windows
Radeon Software Clean Install
GCN Discrete
Pro WX-Series
Pro Duo
FirePro W-Series
Windows
(Pro: Not Win8)
Upgrade Advisor
Kabini APU and newer
GCN Discrete
Windows
User Feedback
GCN Discrete
Windows
Crimson ReLive Linux Driver
GCN
Ubuntu 14.04/16.04
RHEL 6.8/7.2/7.3
SLED/SLES 12 SP2
Radeon ReLive DVR
GCN Discrete
Pro WX-Series
FirePro W-Series
Windows
(Pro: Not Win8)
In most cases, owning a GCN discrete GPU gets a user most of the features, and an RX-400 series gets them all. It's worth noting that none of the Pro features work on Windows 8, but also Windows Server wasn't mentioned specifically on the list of support packages – but I would assume that the equivalent Server version is supported for non-server Windows versions.
Final Thoughts
A year under the new AMD software strategy has yielded significant benefits for user experience, especially when good performing drivers are launched day one. The ethos for the original Crimson has worked well, and will continue into 2017 with ReLive, however there is a large number of new features and it may be tricky for AMD to balance so many new features with a good user experience. The ability to upvote new future features will be an enablement step for AMD to get a live glimpse into their users, but such a feature rarely produces a paradigm shift in thinking. The prominent focus into open source tools and Linux development, especially with technologies such as Freesync or ReLive for ISV certified applications, opens up potential for those markets. 
AMD has promised a yearly cadence for major updates. In the last set of updates, Ryan said: 
"This project has clearly been in the works longer than 3 months – but at the same time this is the RTG making their mark. It's a new direction for AMD's graphics group and a new look to match. And if the RTG can meet their stability, performance, and release goals going forward with the new Crimson driver, then they should be able to make 2016 a good year for the Radeon user base."
The same thing applies for 2017: execution is critical. 2016 ended up being a good year for AMD, helped in part with the RX-series launch, but similarly 2017 launches will be aided by a good user experience through both the drivers and the features. Something as large and complicated as the ReLive recording software can be a key product feature going forward, when done right. 
Where to Download
The new ReLive drivers (16.12.1) should be available to download from today at AMD's driver page, or the Pro driver page.