GE Takes Leadership In Internet Of Things, Offers Long-Term Growth – Seeking Alpha
---
September 27, 2016
Uncategorized
---
GE is the "digital industrial company"
You might have seen the ads on TV – "What's the matter with Owen?" and "Sarah: Building Machines that can talk." General Electric (NYSE:GE) is in the midst of a major "bet-the-company" transformation. GE now calls itself the "The Digital Industrial Company" and is making big bets on software-defined machines, also known as the Internet of Things (IoT).
GE is betting that IoT would offer considerable productivity gains, cost efficiencies and new revenue opportunities across all its business units.
According to Morgan Stanley, the industrial companies will be one of the first ones to adapt IoT technologies. GE already is leaps and bounds ahead of every other industrial and software company. In other words, GE has become the biggest force in this critical "trillion-dollar" market.
Re-organization at GE
GE has completely re-organized itself with the IoT-driven digital strategy at the core of the organization.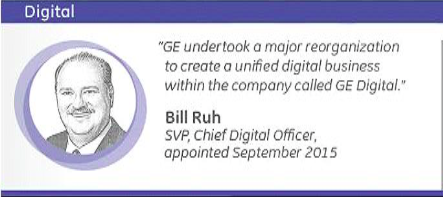 Exhibit 1: Bill Ruh – GE's Chief Digital Officer (Source: GE 2015 Annual Report)
GE kicked off things by first hiring and appointing Bill Ruh as its Chief Digital Officer and opening a massive software development center in San Ramon, CA. The center at San Ramon has almost over night grown to over 1,200 employees.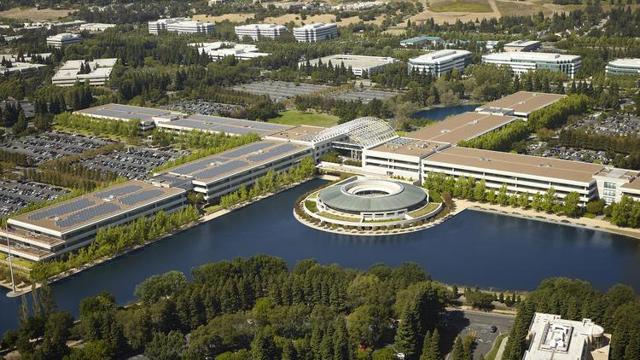 Click to enlarge
Exhibit 2: GE Digital's Headquarters, Bishop Ranch Business Park, San Ramon, CA. Source: San Francisco Business Times
GE's IoT Goals
GE has stated the following goals for its digital business in 2016:
Connecting 200,000 machines

Via installed base, digitizing engineering, commercial, sourcing, and services functions

Growing Predix platform (more on Predix below) to 20,000 developers and 50 partners

GE is well on its way to hitting or even surpassing this goal of 20,000 developers. As of July, 2016, GE had nearly 12,000 developers working on Predix. It claims that on an average, 500 developers have signed up for Predix each week.
For example, TCS has over 500 engineers trained on Predix and is working on an innovative solution to efficiently manufacture gas turbines.

Driving customer outcomes through over 100 innovative industrial internet apps
(Source: GE 2015 Annual Report)
GE sees three vast areas where IoT offers value and these areas drive its application development:
Real-time asset optimization
Improved analytics and diagnostics
Preventive maintenance
In a recent investor presentation, GE Aviation gave the example of Emirates Airlines gaining 12 additional days of utilization based on monitoring provided by Predix.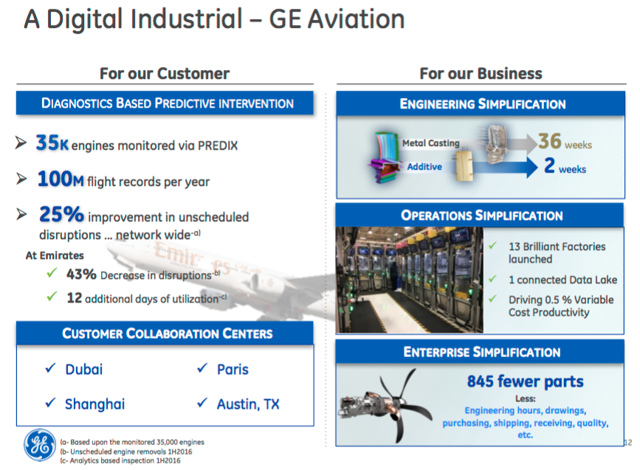 Click to enlarge
Exhibit 3: GE Aviation Benefits from Predix Platform (Source: GE Investor Presentation – Q2 2016)
GE Store
Borrowing an idea from Apple's (NASDAQ:AAPL) app store, GE has created a store called "GE Store" to transfer and trade ideas between various business units. In fact, GE has set goals for each of its business units to contribute digital solutions to the GE Store. When other business units use the solution from the store for customer applications, the business unit that contributed that solution shares in the revenue. GE Store is a way to set clear, accountable goals for all its business units. The various units understand that digital is central to everything that they do.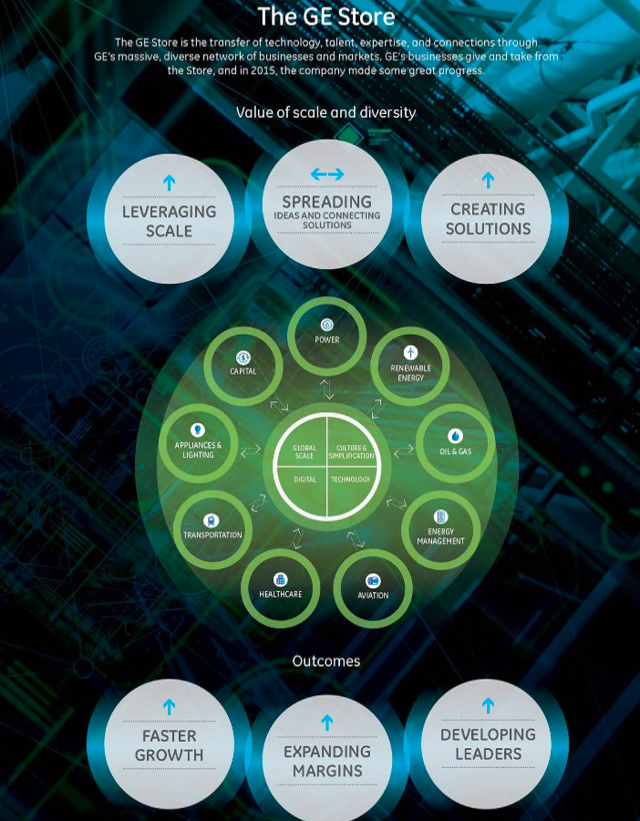 Click to enlarge
Exhibit 4: The GE Store – Digital is at the center along with technology, global scale and culture (Source: GE Annual Report 2015 SEC.Gov)
In 2015, GE claimed $5 billion in revenue for GE Digital. It attributes software revenues to its various operating units and does not separate them out. It's currently targeting $20 billion in revenue by the year 2020.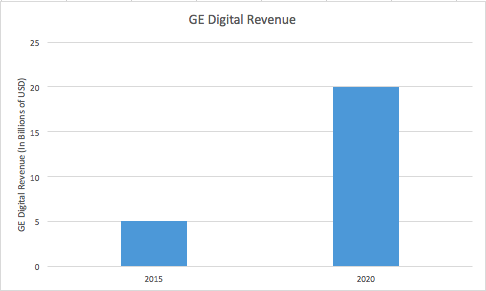 Exhibit 5: GE Digital Revenue in 2015 and in 2020 (Projected) (Source: GE 2015 Annual Report)
Here are a couple of examples of digital solutions:
GE Wind PowerOn Advantage: The goal of this application is to increase annual energy output (GE claims 5% increase) and thus resulting in higher ROI.
GE Grid IQ subscription service offering for utilities that combines various functions, such as Meter Data Management (MDM), Outage Management System (OMS) and Geospatial Information System (GIS) into a integrated package. MDM and OMS are nothing new. They have been around before IoT was even a term. In my opinion, the legacy applications are getting revamped under the GE Digital umbrella with IoT in mind.
Centered Around Predix – The Preeminent Platform for the Industrial Internet
GE's strategy for IoT is centered around a cloud-based platform called Predix that it developed in-house in San Ramon. Predix is based on Pivotal Cloud Foundry. In fact, GE took a 10% stake in Pivotal in 2013 for $105 million.
We have heard a lot about platforms the last few years. Microsoft (NASDAQ:MSFT) Windows was the original platform that drew in millions of application developers. Today, Airbnb (Private:AIRB) and Uber (Private:UBER) are platforms that are getting a lot of attention. Apple's iOS platform has probably become the most successful platform in terms of wealth creation. When it comes to platforms, first movers have a great advantage. That's probably why Steve Jobs raced to create the iPhone. GE understands the importance of the platform and is racing to win the hearts and minds of developers. Sam Ramji (CEO, Cloud Foundry Foundation) states that a platform is like an inverted pyramid where the users who derive value from it reduce their risk by encouraging more users to join the platform. As more applications get built, more users join the platform and thus the platform becomes stronger.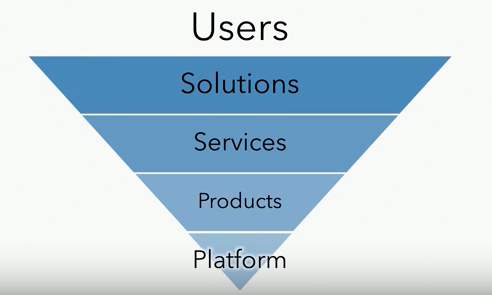 Exhibit 6: The Power of the Platform – Inverted Pyramid. (Source: Sam Ramji, Cloud Foundry Foundation)
GE is so deeply committed to the Predix platform that it launched its first developer conference in Las Vegas in July 2016. GE is an industrial company that still draws more than 95% of its revenue from selling gas turbines and jet engines and it has held its first conference for software developers. The future is already here.
Broadly speaking, Predix is comprised of the following components:
Predix Machine
Predix Machine is the edge software responsible for facilitating the communications with the industrial asset such as a wind turbine or jet engine and the back-end Predix Cloud. It also is capable of running edge analytics that can help make decisions to control the asset. GE is planning on releasing a hardware and software bundle called Predix Kit to easily connect an industrial asset to Predix.
Predix Connectivity
The Predix Connectivity module is used when a direct internet connection is unavailable. This service enables machines to talk to the Predix Cloud via cellular, fixed line and satellite technologies.
Predix Cloud
This is the cloud infrastructure that helps aggregate the data from all the industrial assets, analyzes data, and helps develop analytic models. GE signed an agreement with HPE (NYSE:HPE) where HPE will be the preferred server and storage provider for Predix Cloud.
Predix Services
A micro-services marketplace where developers can publish their own services as well as consume services from third parties.
Predix for Developers
A framework for developers to work with services.

Click to enlarge
Exhibit 9: GE Predix High-level Architecture. Source: Predix Architecture and Services Whitepaper
What could go wrong?
Although GE has laid a strong foundation in the Industrial Internet of Things (IIoT), it still has to execute on multiple fronts without missing a beat.
It needs to continue focusing on improving sensors and data gathering technology to collect the right and most valuable data from its machines.
The analytics models built on top of the data needs to add real and measurable productivity and monetary gains.
GE has to continue growing the number of machines it monitors using Predix and strive to extend monitoring across machines from outside manufacturers. This will be particularly challenging given that other manufacturers do not have an incentive to share data with GE.
Finally, it needs to keep growing the software developer base for its Predix platform. As more developers join and develop credible applications on the platforms, more valuable the platform will become.
Each of these is a daunting challenge. If GE can execute well on all these parameters, it will continue being a leader in this critical area.
Conclusion
GE is moving ahead with great speed, to the extent that competitors like Honeywell (NYSE:HON) are left scrambling to try and acquire software companies to catch up. GE itself is making acquisitions at a frenzied pace to build out an end-to-end platform for Internet of Things.
Over time, Predix has the potential to be bigger than Facebook (NASDAQ:FB) (but for machines), managing over a billion assets. In essence, GE is transforming itself into a software company and that puts it in direct competition with every other software company. In a model very similar to Facebook (Facebook users are just data points to be sold to advertisers), some of GE's low-priced hardware business could become a sideshow with data and analytics taking center stage. IoT will bring about transformation and productivity gains not seen since the dawn of computers and the internet. GE is leading the way in this revolution. It has a lot of value to offer and in turn will grow its software services revenue.
I am a long-term investor in GE.
Disclosure: I am/we are long GE.
I wrote this article myself, and it expresses my own opinions. I am not receiving compensation for it (other than from Seeking Alpha). I have no business relationship with any company whose stock is mentioned in this article.